Below are the 14 steps we use in our cylinder head remanufacturing process. You can scroll down to view all steps or use the drop box to go directly to a particular step. Pressing the red arrow buttons will bring you back to the top of the page.
STEP 1) CYLINDER HEAD DISASSEMBLY
All cylinder heads are visually inspected for casting defects prior to their disassembly. The parts are then removed and individually inspected for damage and cause of failure. The oil and water passage plugs are removed to insure optimum results during the thermal cleaning process.
Only premium castings are used for our marine cylinder heads, all castings are replaced for all the salt-water applications. Our high performance cylinder heads are built with premium cores. In many applications new castings are used, as we never employ repaired castings. To retain your classic cars's original cylinder head casting, Promar employs the best skilled casting repair technicians in the industry.

Dirty Cylinder Head
---
STEP 2) CYLINDER HEAD THERMAL CLEANING
The thermal cleaning system gives our customers the closest thing to a new casting, taking engine parts to a whole new level of clean. The heaters emit uniformly controlled heat, which is evenly distributed throughout the chamber. This method totally eliminates the concentration of intense heat or flame entering the chamber, which could overheat, warp or melt parts. The load is heated to 650-800 F (340-427C) in an oxygen deficient atmosphere, where the combustible hydrocarbons decompose and parts leave the oven completely dry. This baking process used on cast iron cylinder heads only employs the Ace RKE 230 oven. Ash residue is easily removed by stainless steel shot blasting which is the next step in the cylinder head repair process.
Oven-Cleaned Cylinder Head
---
STEP 3) CYLINDER HEAD SHOT BLASTING
Our shot-blasting machine employs a cleaning method using stainless steel shot. This finishing process is used by Promar to remove surface contamination such as rust and irregularities from cylinder heads during remanufacturing. The result of this method is a cleaner smoother surface finish to make easy the detection of surface and subsurface casting defects during quality inspection.
To insure stress free casting, the peening process is used to impart compression strength to metal parts. This is accomplished by metal shot pellets acting like miniature ball peen hammers as they strike the entire surface of the cylinder head. All iron castings are put through this process before a preliminary inspection for defects is done. This process using the AR-HB41 is employed for cast iron cylinder heads only and facilitates a more accurate magnetic particle inspection.

Shot-Blasted Cylinder Head
---
STEP 4) CYLINDER HEAD MAGNAFLUXING
Magnetic particle inspection is the most definitive method of detecting cracks and imperfections in any ferrous engine parts. This procedure assures the highest quality cast iron cylinder heads. The next process of cylinder head repair is pressure testing, but first, let us explain how aluminum cylinder heads are cleaned, pressure tested and checked for casting defects.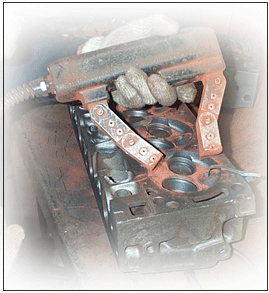 Magnetic Particle Inspection Process
---
STEP 5) CYLINDER HEAD HIGH PRESSURE WASH
The first stop for a qualified aluminum cylinder head during remanufacturing is our AXE SW20 OS spray cleaning system. With twice the spraying power and a dramatically increased number of multi integrated spray nozzles, this state of the art system assures Promar that all oil, dirt and foreign material is removed from even the smallest of oiling holes. Cleanliness of the aluminum cylinder head is essential to insure an accurate inspection. This process is used on all aluminum cylinder heads as a first step prior to the second step of ultrasonic cleaning.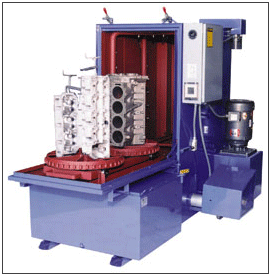 AXE SW-20 OS Spray Cleaning Machine
---
STEP 6) CYLINDER HEAD SONIC CLEANING
Promar's second process in the cleaning of aluminum cylinder heads during repair is the ultrasonic cleaning method, long known as the "benchmark" in cleaning. Hundreds of specifications reference an ultrasonically cleaned part as the ultimate target for cleanliness. Ultrasonic cavitation is able to clean right down to the surface of a part and beyond. It is also able to reach internal areas, which are not accessible by using other cleaning means including spray and mechanical agitation. The forceful nature of ultrasonic energy provides the physical "push" required to break the mechanical and ionic bonds that hold very small particles to surfaces. Once cleaned the cylinder head is sent for pressure testing.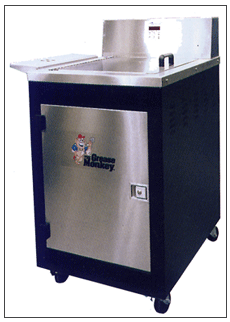 GMC-1818B Ultra Sonic Cleaner
---
STEP 7) CYLINDER HEAD PRESSURE TESTING
Promar uses the Delta Pressure tester to double check for pin holes after magnafluxing and dye testing are completed. Cracks and defects not detected during the first cylinder head remanufacturing process are found at this time. This second process insures the integrity of all castings used in Promar products.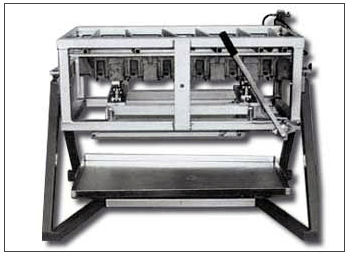 Delta 6000 Pressure Tester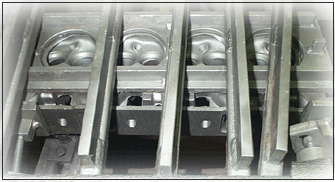 Pressure Testing Process
---
STEP 8) CYLINDER HEAD PREPARATION
During the head preparation and after pressure testing, minor cylinder head repairs are carried out. Broken bolts are removed and repair and tapping of threads completed. Gasket surface repairs are accomplished in order to minimize stock removal. All guides are inspected for replacement or fitted with new oversized valves. The heads are now ready for line honing.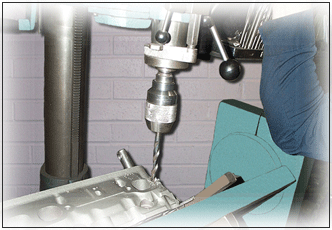 Broken Bolt Removal Process
---
STEP 9) CYLINDER HEAD LINE HONE
Promar engines continued its commitment to excellence when we purchased the RMC CNC V40 enclosed machining center. This machine is fully computerized and is equipped with a 24 pocket arm style automatic tool changer. The RMC V40 is a very fast, accurate and versatile machine for all of our engine block and general machining needs. Promar uses this to line bore cylinder heads from engines with overhead camshaft designs. With position repeatability within .0001", there is no cylinder head machine more accurate than ours. After bored, all camshaft bores are measured with our Sunnen GR-6241 dial bore gauge to ensure sizes are within .0001".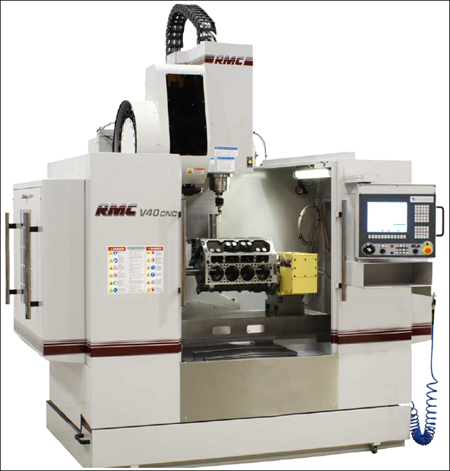 RMC V40 CNC Machine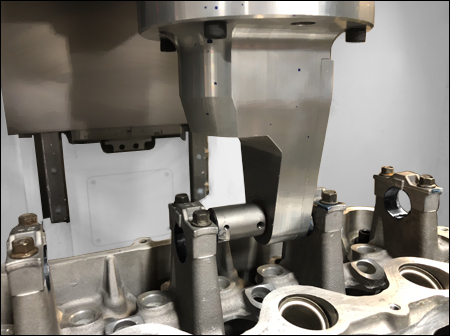 RMC Line Hone
Line Hone Process Video
---
STEP 10) CYLINDER HEAD MACHINING
In cylinder head machinging, classic car heads previously designed to use leaded gas must be updated with seats and valves compatible for use with unleaded gas. Marine and high performance heads are fitted with new guides before valve seat resurfacing.
---
STEP 11) CYLINDER HEAD SEAT REFACING
Promar's head machining center has a rigid head and base enabling delivery of high precision multiple angle seat to guide concentricity within .001 or less per 1" of valve diameter. The variable speed cutter head on the DCM series 2000 assures chatter free seat finish. All seats are checked with a vacuum tester while still on the machine. A second check is done after final assembly to insure optimum valve and seat seal. The next process during cylinder head repair is milling of the heads.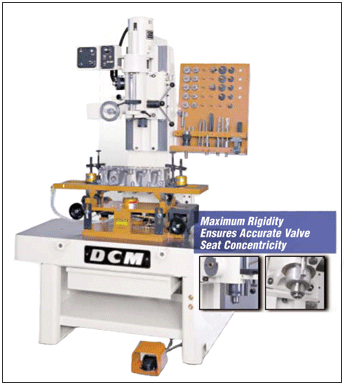 HCM-2000
Valve Seat Resurfacing
---
STEP 12) CYLINDER HEAD MILLING
Milling machines that are used by Promar are set up specifically for heads. The Winona Van Norman M3000 machines are used for their variable feed rate, which is essential to acquire proper Ra finish for each head. Ra finish determination is based on the type of head, be it aluminum or cast iron and by the type of gasket used for each specific application. These machines utilize CBN (cubic boron nitride) cutters, which are second in hardness only to a diamond, to maximize quality work during cylinder head remanufacturing. During the cutting process heat from friction is absorbed and carried off by the discarded metal chips thus resulting in improved accuracy and excellent surface finish. Promar insures proper measurement of Ra by utilizing the Mitutoyo SJ-301 twice, once after resurfacing and again before final assembly.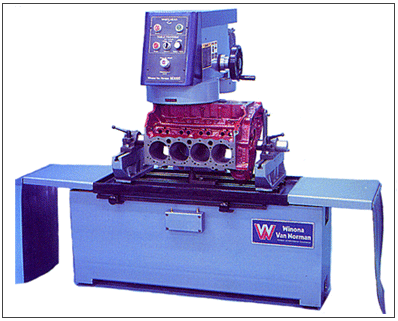 M-3000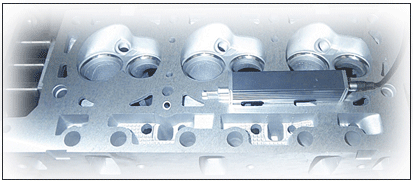 Surface Ra Testing
---
STEP 13) CYLINDER HEAD FINAL WASH
All heads are then washed with a mild detergent and rinsed before the final assembly.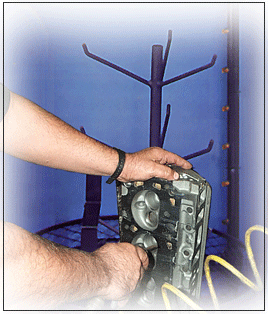 Cylinder Head Washing Process
---
STEP 14) CYLINDER HEAD ASSEMBLY
At the time of assembly, Promar installs new oil and water plugs in all its cylinder heads, using brass plugs in our marine applications. The springs are checked for proper pressure as well as the installed heights checked and new Viton seals installed. All our overhead cam heads include new cams, rockers, lifters and cam seals.
The final assembly process is accomplished using the CHW-50 Cylinder Head Workstation. This machine takes the work out of head assembly and disassembly. It makes precision automotive head rebuilding easier than ever. The entire valve train, including cams, rocker arms, cam buckets, springs, valves, etc. can be easily removed, reinstalled and adjusted while the head is mounted in the workstation. Once final assembly is completed the heads are vacuum tested and then wrapped.
CHW-50 Cylinder Head Workstation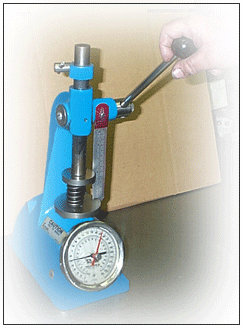 Head Spring